I usually leave the fashion critique to the experts (a.k.a.
The Fug Girls
), but I just can't get past this foolishness.
Ladies and gentlemen, Raven Symone.
When I first saw these flicks on
Crunk and Disorderly
, my first response was "
Emperor's New Clothes
" because damn if she doesn't look like she's seeing this getup for the first time in that picture on the left.
But what I didn't notice at the time -- probably because I was viewing the pics on a laptop -- was that she's not just wearing tights in lieu of pants . . .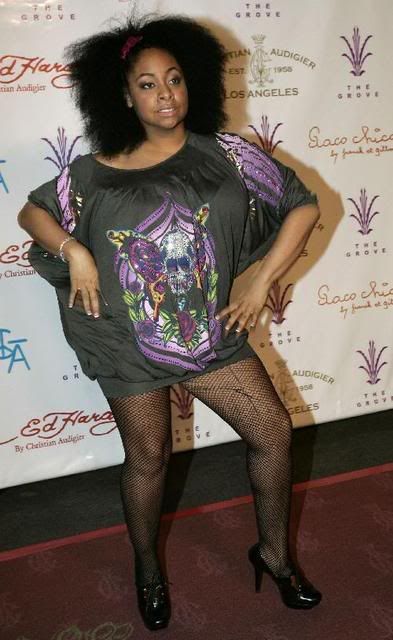 . . . she's wearing fishnets. As though this look wasn't doing too much as it is.
Granted, she's making an appearance an
Ed Hardy
fashion show in LA, so she probably doesn't look any more ridiculous than the cats going down the runway. But my hatred for all things Christian Audigier is well known (well, by those who know me), so no reprieve, Olivia. You should've vetoed this look before you left the house.